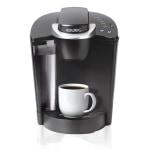 Update - Price is now back up to $114.
Use the promo code 73756055 to get $10 off! Plus, you will get FREE shipping!
This exact same brewer is $122 over on Amazon
.
In fact, this is the EXACT Keurig that I have, and I love it!! If you have been wanting one for a while, this is definitely the best price I have seen on one.
You can also shop through Shop at Home and get 7% cash back!